Troubleshooting
Here we list some reported problems by users of the Media Suite, and their solutions. If you find other problems or issues, please let us know .
Note! Please keep in mind that the Media Suite is only tested in Google Chrome for now.
Playout not working
Please remember to read also the FAQ about which sources can be viewed/played via the Media Suite.
This happens if you are logged into the Media Suite and an audio-visual resource from the Sound and Vision collection is supposed to play, i.e., you get a player window, but the resource does not play, i.e., if you get something like this):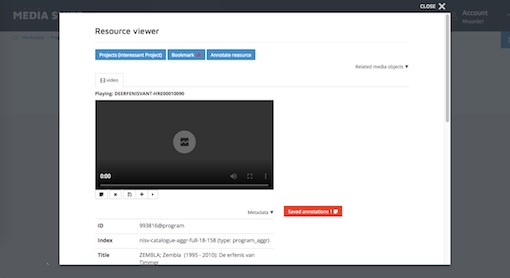 There are at least two ways to solve it:
First solution
In Chrome, go to Settings (using the three dots on the right upper side)
Go to Advanced
Content settings
Cookies
And deactivate "Block third-party cookies"
Note that this would allow other sites to write cookies.
Second solution
Click on the icon with the shape of a cookie where you get the message "This page was prevented from setting cookies" (see below):

Go to "Show cookies and other site data"

Click on "Blocked"

Click on "mediasuite.clariah.nl"

Click on the "Allow" button below, and "done"

Click on "Reload"
Now you should be able to play the audio or video. Otherwise, please Contact us .